Data Visualization Project: Converting 911

Response Data to Effective Visualization for

New Residents in Seattle


As a side project in the HCDE department, I took a chance to convert 911 response data from data.seattle.gov to make three Tableau visualizations to address my research question for new residents in Seattle. I chose new residents for Sea little because I thought that the Incidents data for each district/zone could reduce crimes and incidents by providing information to new residents who are not familiar with their area.
I needed to make assumptions on the targeted residents by creating personas and pinpointing main concerns in relation to my 911 response data. 
Understanding People in Need
I determined the following three user groups: 
Daily Commuters that use public transportation
Because Commuters who just move to new town but do not have a car would wonder what districts are safe, so that they can walk back home through safer area or decide to order Taxi when they have to pass by dangerous area. 
Parents with young children (Under 18)
As parents will question what time and which places will be more adequate for their children to hang around without guardians.
Car owners
The car owners of the new residents may question when they do not have to bring a car because specific time, days, and places must be safer. 
Then, I started with the research question, "
when and where would be the safest locations to walk even at night in Seattle
?" In order to solve this question, I needed to represent data in a clear and organized fashion through the application Tableau. The hardest part of this process was learning how to use the application.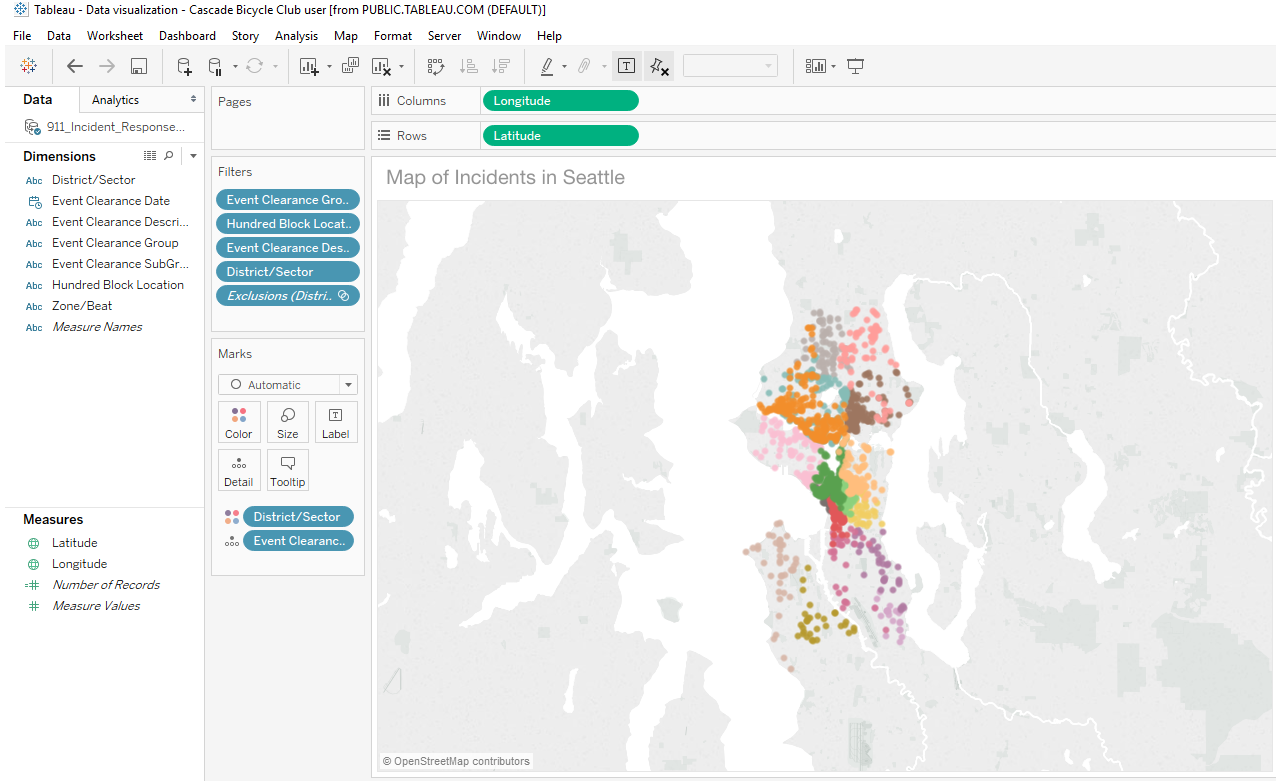 Exploring the various functions on the Tableau user interface
After creating visualizations through studio tutorials, it helped me become more confident in creating my own variation of a data visualization. 
"My main goal was to use the visualizations/data to clearly show when and where concerned incidents occurred most"

Filtering the data to "the incident types that likely happen to my user types" related data in Tableau allows me to focus on data related to my users. Overall, learning how to use the Tableau application proved to effective as I had three visualizations to present data to stakeholders.
Acquiring and Visualizing Data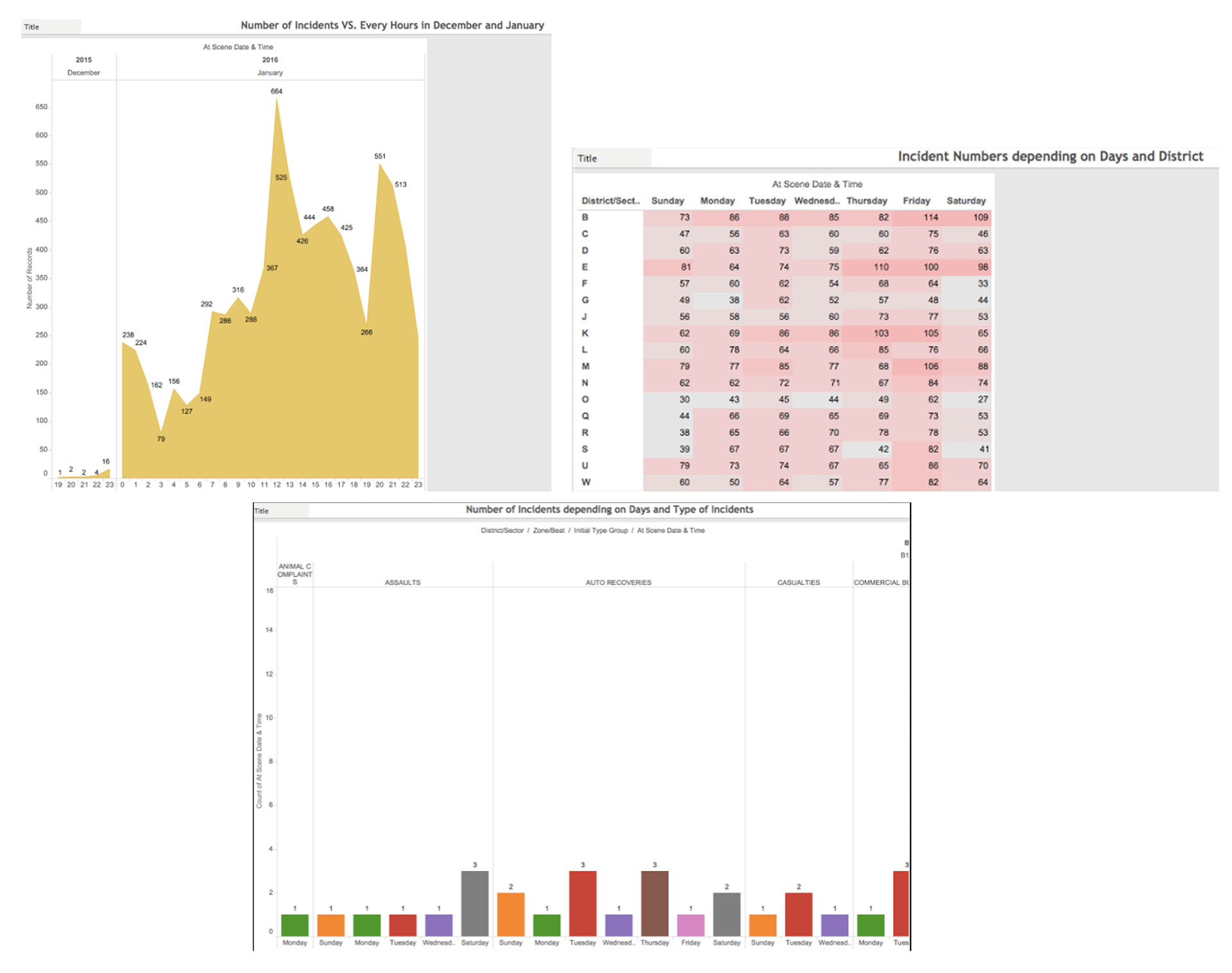 To describe the first one of these three visualizations I created, I decided to visualize the relationship between the Number of Incidents and Every Hour in December and January. The purpose of this visualization is to aid car owners, one of my user types, to decide what the best time is to use their car instead of walking. I chose to visualize this data set as an area chart because it effectively represents the contrast of depth between the highest (the most incidents) and lowest (the least incidents) points. I decided to fill in the chart with yellow, as it symbolizes 'warning' that captures people's eyes strongly. 


Looking back, I found several improvements to take place. First, the weight and size of the text for the number on each point could be too small for certain users so I should make them bolded text and/or increase the text size. Second, it is not always clear which points represent which time of the graph, as some of the points are too far away from the x-axis. The user might feel confused and hassled looking all the way down and still not being able to figure out which point corresponds to which time. Thus, I should place each hour next to the number of incidents on the peaks. Every project needs iterations. If I had more time, these are some of the improvements I would make.

Reflecting on Creating Data Visualizations


In the beginning, while I was very impressed Tableau's power of visualizing cluttered data into intuitive, insightful diagram/graphs, I was confused often with a variety of options and complex data. However, by researching strong examples and trying various functions on my own, I learned how to create the visualizations I intended. Through this experience, I realized the importance of Tufte's principles of visualization. I reflected on the moment of deeply deciding which representation would be ideal for my user's background and pain points. 
The key for me was to maintain focus on my audience and how to best create visualizations to help them achieve the goal.
By following the philosophy of creating for users, I kept a clear goal in mind while designing my data visualizations. This philosophy was effective by creating graphs that best relate to my research question for users. Throughout the project, I discovered that data visualization is another crucial step in the human-centered design process. 
Relating my experience with Tableau to 
the UX Research and presenting to 
As a Product Designer, getting to the root problem and figuring out the "why" on my own design decisions is one of the most important principles. Through data visualization, UX Designers can prove that a particular issue is important through clear data representation.
Learning new skills such as creating data visualizations with Tableau can help my future in Product Design for relating data to my design rationales. 
Dealing with Tableau for the first time was challenging and enjoyable. But exploring and practicing new applications released will be a daily task as a product designer. Also, strong designers should be proficient in user research as well to convince their stakeholders they are co-create with to solve people's problems. This short project helped me realize what makes an effective visual to communicate information clearly. I am glad to have been challenged while learning new things and I cannot wait to apply UX research in making critical, convincing design decisions.